One day all the kids got a shoebox-sized parcel from the American Red Cross. These were put together by kids like us in US public schools. These were boy/girl specific, but someone did not notice, or didn't care, and I got a girl box. In it was a pencil or two, some Adams Spearmint and Juicy Fruit gum, a couple of berets for hair (this was a girl box!), a black leatherette folder that could be used as a wallet or something, perhaps some other stuff, and an Air Mail reply envelope listing the names of the kids who contributed this stuff, their school class and so on. Mine had come from a school in New York State. All we kids were gathered for writing a thank you note in English in these reply envelopes, but it did not go very well and I never did finish, or mail mine. I think of that now and again when I think about Europe. I wish I had. It was a real treat to receive that package!
I was signed up for violin lessons, then piano. I had a problem with that as I would rather be out fishing with George. We were inseparable. There was some gang warfare with the German kids, and we had our turfs. If you were alone in theirs you could get banged up, at which time you got your gang together and chased them.
I visited my first dentist in Dinkelsbuhl! I guess I needed some fillings. The drill was operated with a foot pedal, like an old sewing machine, which instilled a lifelong fear of dentists, and contributed to my losing many teeth through lack of dental care.
Flashlights were a big thing. We all had to have one, and were always going to the electrical supply store (he had a vacuum cleaner displayed in his window, not unlike our old Electrolux Arrow) for more bulbs. They were probably the wrong size and thus burned out quickly. There was a large yard behind our inner building and full of logs for our winter wood supply. We climber over these and a flashlight was certainly handy at night. While playing with batteries I discovered that the plastic things I had, with two wires sticking out would blow up if connected to any battery terminals. They could have been detonating devices for explosives. They were about two inches long and a little thinner than a pencil. They seemed dangerous so I did not keep that up! I spoke with Andy Kennedy (ex-Kacinik), my friend from high school. He and I were the swimming stars in class. Andy says he played with these as well as trying to set off cannon shells etc. He is amazed he was not killed. They would climb tall farmers' racks for drying hay and drop explosives to the ground in an effort to make them blow up! They also had a small bomb hit their house in Yugoslavia.
Everyone kept rabbits and we had to go pick grass for their food. There were a couple of stage extravaganzas put on. This is where the joke about "Laugh three times and walk off stage" was interpreted to be lines, instead of instructions. There was also a masquerade, which was a big do with an orchestra playing and so on. Someone had lost a sanitary napkin and some of the dancers were kicking it around. Really high class!
I became a stamp collector and dealer. We were getting mail from my father's sister Zenovia Wosowich in Saskatchewan and I was getting Canadian stamps, of which there were not many around. I had trading power, then I found that I could sell them to the German kids. Everyone collected stamps, and they played piano. There were at least two stamp dealers in town and we would look at all the great stamps in the window. When I gathered a little money I bought stamps at the stores and sold some of them to the kids on the street at a profit, which enabled me to buy more stamps. They are here!
O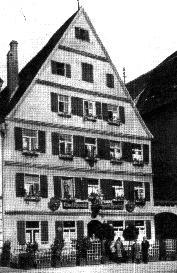 ne of the camps, a small one, was in the Goldene Hirsch (Golden Stag), a little hotel/inn on a side street, with a stamp store beside it. In the GH attic I found bags and bags of quarter sized coins from Hapsburg days. There were enough for a Brinks truck. Could have caused a glut among coin collectors today! Close to this hotel was a theatre-type room on a second floor where movies were shown. I may have seen "The Five Sullivans", or whatever it was called - the story of five US sailors, brothers, who all get killed. It was a famous, true story. I do remember "Der Kleine Muck", a children's story a la Walt Disney, with boy and girl heroes. She was tending a flock of geese. I remember the theme song. I believe it was in colour. They also showed "Welt in Film" (World in Film) newsreels, and I remember the theme music from that.
I had a bicycle, which was great. We built scooters out of a couple of planks. A plank to stand on, with a wheel at the back, another to be at the front, vertically, with the second wheel. You would push yourself with the free foot to get speed, then coast. This we called a hulainoha or 'dancing leg' in Ukrainian.
One pastime was to "walk" a bicycle wheel rim, without the spokes, with a stick. Pushing the rim with the stick and alternating sides to steer it. A "hoola-hoop" type of thing. The other was playing "sticks". Dig a little hole in the ground, bury a piece of stick in the dirt across the hole, then place another stick across that one to form a teeter-totter kind of thing. Strike the teeter-totter with a long stick to make if fly. The guy that sent it the furthest was the winner! To make a whistle, you cut a piece of willow half an inch or so thick. Square up one end and cut a piece out on the side, like half a curved 'v'. This is where you will blow. On the opposite side, cut out a small (1/4") "thumbnail" hole, going into the wood. An inch or two past that, do a circular cut around the stick going through the bark to the wood inside. Now, using the back of the knife handle, hammer the bark all around. This separates the bark from the wood. Hold the stick in one end, clasp the loosened bark, and twist, sliding the bark off the stick. Trim a piece off the mouthpiece end to plug that end, first shaving a little wood off the opposite side from the 'v' cut and insert it into the bark tube, then cut a plug of wood to seal the front end. Presto!
Not my favourite, but we did play a modified kind of baseball. American influence! Some soccer occasionally, but I was not a sports fan then either. One day there was a 'seniors' soccer match and my dad participated.
Somehow I got my hands on a little brass steam engine. A little fire and water would make it run. It did not drive anything, just ran. But it was fun.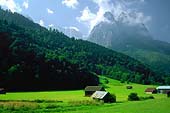 We went on a family trip to Garmish-Partenkirchen to see the Alps and went to the top of one mountain in a cable car. The air was very thin and there were poppies growing everywhere in colours I had never seen before, or after. The view from the top was spectacular. We either visited or went through Berchtesgaden where Hitler had his mountain fort.
We had been waiting for our application, sponsored by my father's sister in Glaslyn, Saskatchewan, to emigrate to Canada. One had to be sponsored to come here, and she was doing that. One day, word came that we were to go to a processing centre near Nurnberg and off we went. We stopped in Nurnberg and went to the zoo. It had to be spring because I remember pink magnolia blossoms on the trees down one whole street. The houses along this street were much like the little bungalows in North Toronto, with lawns at the front.
The clearance centre looked like ex-army barracks. The US Army actively ran the camp, with armed guards at the gate. They were all wearing the little .30 calibre carbines (not the M1 .30-06) with extended skeleton magazines and shiny brass ammo showing through. This was neat! There were always some Jeeps parked on the road outside and kids hanging around the US soldiers just like the Korean kids in the television series M*A*S*H* some years ago. I passed by occasionally, but did not 'participate'.
They starved us here. All I remember to eat was a milky soup with pieces of what looked like spinach floating in it, and not much of that. It had no taste. There probably was a bit of bread to go with that, but I don't recall. I do recall going through our luggage looking for something to eat, and roaming the fields around looking for root crops to steal. I was hungry all the time. Very likely there was lots of good food sent to feed us, but it was sold by a crooked administration on the black market. I had a little folding "Esbit" brand stove, about the size of a large Canadian cigarette package, which was fuelled by little Esbit fuel blocks, but there was nothing to cook. I've seen these little stoves in Canada.
The buildings were three or four stories high and had large rooms off corridors on one side. The rooms were full of army cots for us to sleep on. Twenty, thirty, forty, I don't know, beds to a room. There was no privacy. Those that wanted privacy headed to the attic, and left remains there. Some of the 'men about town' would occasionally blow up 'balloons' and throw them out a window to float in the breeze. I found some of these in the attic and blew them up. I shudder at the thought now! They were not new.
We were fingerprinted, X-rayed, examined and all that. People were leaving constantly, via train and headed to Venezuela, Paraguay, Uruguay and elsewhere. It was easier to go to these places. My sister says now that someone stole my X-ray photos with tuberculosis and we were turned down on coming to Canada, then after my aunt's intervention, went through the process again. I do remember doing it twice, but don't remember leaving and coming again.
I do remember that I could go to the US "PX" army store and buy a package of Camel cigarettes for two marks. On the street it was easy to sell each cigarette for two marks, and I soon had a thriving business going. But obviously I should have done so on the sly! The US MPs grabbed me, hauled me in front of my parents, and made a big issue of my business. They threatened to cancel our processing!
All that was sorted out, I was not punished, and soon we were heading to Bremenhaven to board the SS General Stewart heading for Halifax, NS. Bremen was quite nice, the commercial fishing docks were quite orderly and nice to stroll around, and there were commercial fishermen selling some of their catch. The dock where our ship was, was a mess, but then they had been getting shot at just a few months earlier! We sailed on September 5, 1948.